Delta Single Handle Pull-Out Kitchen Faucet with Soap Dispenser
Save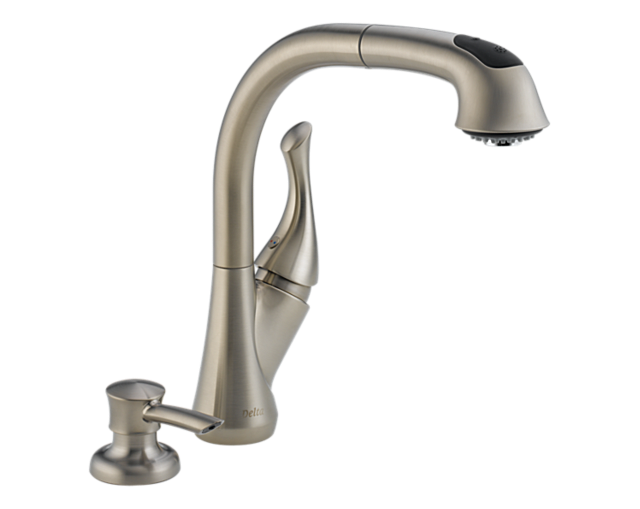 Finishes:
Brilliance® Stainless
List Price as Shown (US $):1
Tall/High-Arc (16961-SSSD-DST):

$317.80
1The manufacturer's list price (U.S. dollars) is shown for comparison only. The actual retail price may be different from the price shown.
Product Features & Benefits

Features & Benefits:

High-arc spout provides a large working area underneath the faucet.
Pull-out spray for long reach and easy clean-up
Single lever for easy operation with one hand
Matching soap or lotion dispenser included

Technical Details:

Number of Handles:

1

Tall/High-Arc:

Yes

Pull-out/Pull-down:

Yes

With Side Sprayer:

No

Valve Type:

DIAMOND(TM) Seal Valve

Flow Rate:

1.80 gpm @ 60 psi, 6.8 L/min @ 414 kPa

Holes/Width:

2-hole 4-18″ installation

Smart Features:

ADA Compliant
With Soap / Lotion Dispenser
CA/VT Compliant

Support & Repair Parts

IMPORTANT: If your device does not have a PDF viewer, you will need to visit your phone's manufacturer's website to download a PDF viewing app first.