Linden Monitor® 17 Series Tub and Shower with In2ition® Two-in-One Shower
Save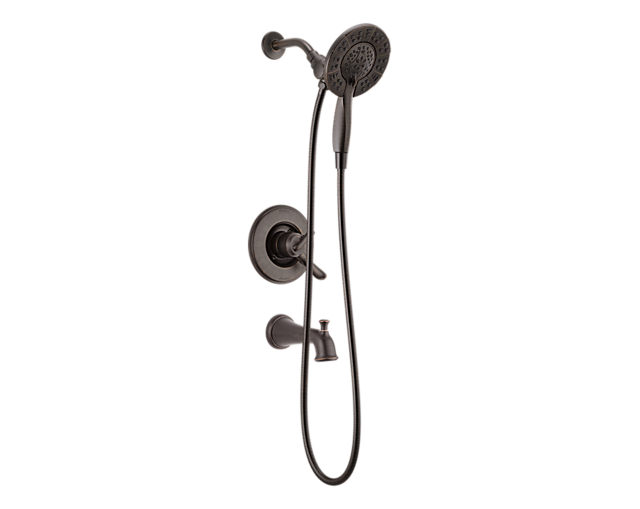 Finishes:
Venetian® Bronze
List Price as Shown (US $):1
Tub Shower (T17494-RB-I):

$313.30

MultiChoice(R) Universal Tub and Shower Valve Body (R10000-IP):

$47.75

Total:

$361.05
1The manufacturer's list price (U.S. dollars) is shown for comparison only. The actual retail price may be different from the price shown.
Product Features & Benefits

Features & Benefits:

The design was inspired by a strong presence in nature like that of tree with reaching branches.
With a full suite of products including matching accessories, the Linden Bath Collection complements most any bath.
Utilizes the MultiChoice Universal rough-in feature - order separately
Dual function Pressure Balance control - Handle adjusts volume - Dial adjusts temperature
Four-setting, In2ition integrated shower head and hand shower
Available in chrome, Venetian Bronze, Brilliance Stainless or Champagne Bronze

Technical Details:

Valve Type:

Dual-function pressure balance cartridge

Flow Rate:

2.50 gpm @ 80 psi, 9.5 L/min @ 550 kPa

Smart Features:
With Volume Control
Support & Repair Parts
IMPORTANT: If your device does not have a PDF viewer, you will need to visit your phone's manufacturer's website to download a PDF viewing app first.