Linden Monitor 17 Series Shower Trim with In2ition Two-in-One Shower
Save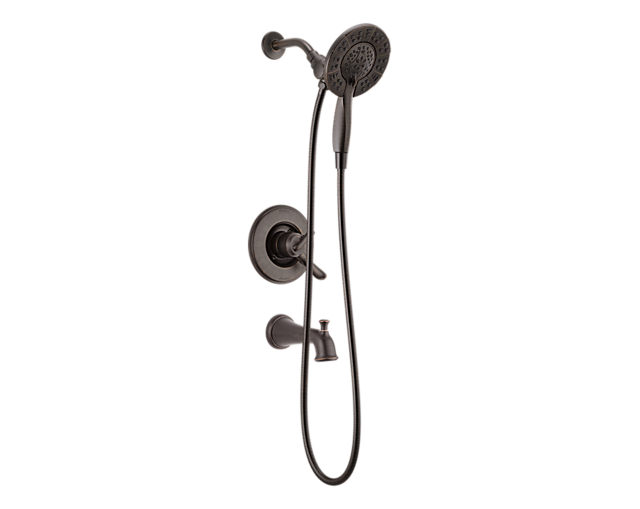 View in a Room
Finishes:
Venetian® Bronze
List Price as Shown (US $):1
Tub Shower (T17494-RB-I):

$329.20

MultiChoice Universal Tub and Shower Valve Body - IPS Inlets / Outlets (R10000-IP):

$50.70

Total:

$379.90
1The manufacturer's list price (U.S. dollars) is shown for comparison only. The actual retail price may be different from the price shown.
Product Features & Benefits

Features & Benefits:

Diverter lever sets In2ition Two-in-One Shower to one of three options: Showerhead and Hand shower, Showerhead only, and Hand shower only
Monitor pressure balance valve keeps water temperature within a safe +/-3degrees F (+/-1.6degrees C), helping to protect you from sudden changes in hot or cold water pressure
Pause feature reduces the water to a trickle, allowing you to conserve water while doing tasks such as lathering up or shaving your legs
Soft, rubber spray holes allow you to easily wipe away calcium and lime build-up from the spray face of your showerhead and hand shower with the touch of a finger
Trim kit only, must order MultiChoice Universal rough-in separately to complete the unit
Meets standards set by Americans with Disabilities Act (ADA)
Spray settings include: Full Body, Fast Massage, Full Spray with Massage

Technical Details:

Valve Type:

Dual-function pressure balance cartridge

Flow Rate:

2.00 gpm @ 80 psi, 7.6 L/min @ 550 kPa maximum water usage

Gallons Per Flush:

NA

With Volume Control
Support & Repair Parts
IMPORTANT: If your device does not have a PDF viewer, you will need to visit your phone's manufacturer's website to download a PDF viewing app first.